Minecraft is a game where players build and explore worlds made up of different materials like bricks, wood or even diamonds. However, there have been reports that some people are still having the white loading screen problem on windows 10 when they try to play this popular video game. Here's how to fix it if you're experiencing this issue.
Minecraft bedrock stuck on white screen" is a problem that has been present for a while. The issue was fixed in the 1.11 update, but if you're still having problems, try these solutions.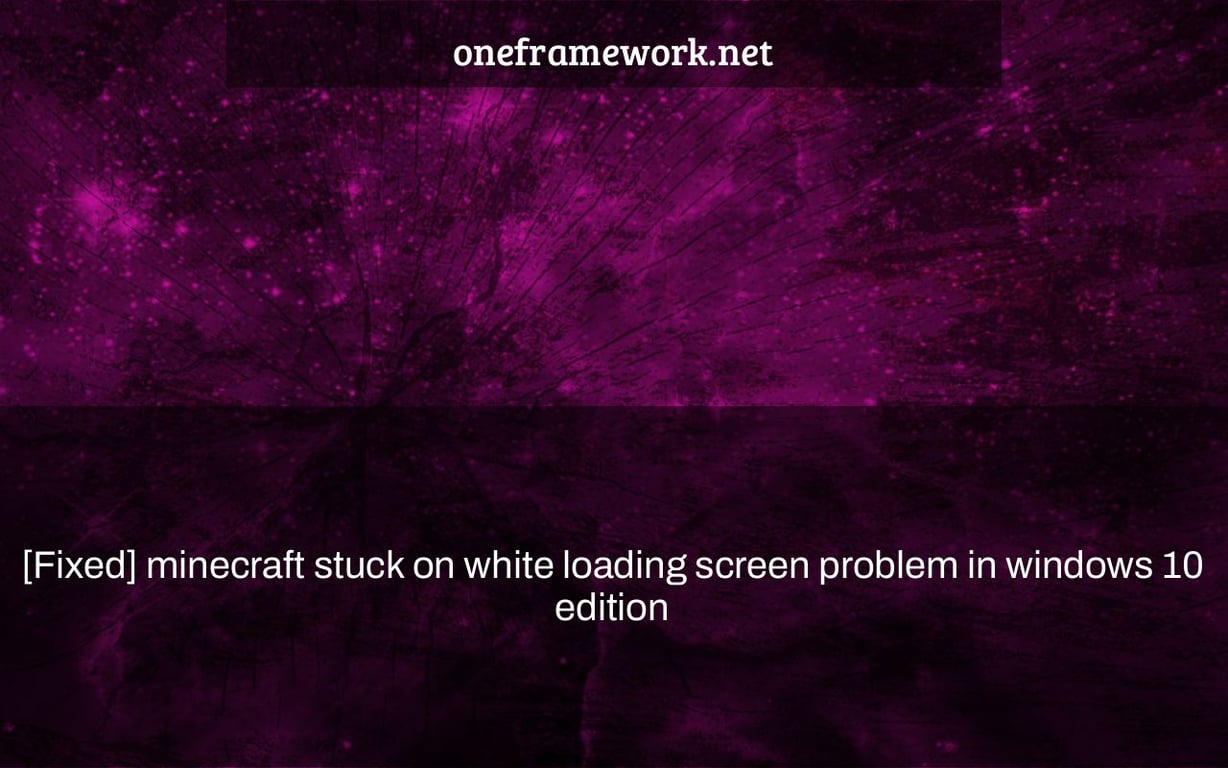 There have been several complaints from Windows users and even Mac users saying that when they launch Minecraft, their computer becomes stuck at a white loading screen, and despite doing everything, they are unable to solve it.
This tutorial is for you if you're one of those Minecraft players who can't seem to discover a solution. You'll learn how to cure the Minecraft white Mojang loading screen issue on your Windows 10 or Mac computer in this post.
These patches are for the Windows 10 version of Minecraft, but they should also work in the Java and Bedrock editions.
There are a number of methods to resolve the white loading screen problem on your Windows 10 PC, but the most effective (although temporary) solution for now is to terminate the runtime broker.exe of your Minecraft launcher from the task manager.
If you're in a rush and simply want to play, this is a good option.
From the task manager, terminate the runtime broker.
To terminate the runtime broker in Minecraft, carefully follow the procedures below:
Start the Minecraft Launcher.
When you see the white loading screen, press Ctrl + Shift + Esc on your keyboard at the same moment to launch the Task Manager.
Double-click on Minecraft to expand it by searching for it.
Now that you're in Minecraft, End Task after selecting the Runtime Broker.
The same processes apply to other Windows versions, such as Windows 11, and even Mac machines.
With this, you should be able to solve your issue. If not, or if you're seeking for a long-term solution, go on to the next option.
Also check out this quiz to see which Genshin impact character you are.
Update your graphics and display drivers on your computer.
You should update your graphics drivers if Minecraft is still stuck on the white loading screen. The drivers assist in keeping the computer screen and the Minecraft game connected. Incompatible drivers might cause latency, visual issues, or even the game not to start.
To update your drivers, you have two options:
Update your device drivers manually.
You must determine the graphics driver present on your machine and download it from the manufacturer's website to manually upgrade to the newest and most suitable graphics driver. Graphics cards are divided into three categories: Intel, NVIDIA, and AMD. You may look up your graphics card on the manufacturer's website.
Drivers are updated automatically.
Try utilizing a program like Drivereasy to automatically update your drivers in one click.
Pro tip: To update all of your missing drivers in one click, use drivereasy (download it here for a 10% discount).
You should be able to play Minecraft without difficulty after upgrading the graphics drivers.
Also see: [Fixed] Antimalware Service High Memory Executable on Windows 10 (2021)
Turn off your antivirus program.
If the white loading screen issue in Minecraft persists, consider deactivating your antivirus software.
Minecraft might become stuck on the loading screen for a number of reasons, but one of the most common causes is antivirus software. Antivirus software is often incompatible with Minecraft and should be removed.
Because disabling these antivirus programs may not always work, you may remove them temporarily to see whether this is the source of your issue. If you're playing Minecraft using TLauncher, this patch will be more effective.
You should deactivate the following antivirus software to see whether this is the source of your problem:
AVG Antivirus is a free antivirus program.
BitDefender
ByteFence
Constant Guard by Comcast
Intel Security/McAfee Antivirus
Norton Antivirus is a software that protects your computer from
Run a scan with your Windows Defender to make sure you're not infected with adware.
Use the Minecraft launcher with built-in visuals.
If the issue persists, try using the Minecraft launcher with integrated graphics. To do so, follow these steps:
Right-click the Minecraft launcher icon on your desktop.
Select Run with the graphics processor from the drop-down menu.
Then choose integrated graphics from the drop-down menu.
Also see: [Fixed] Antimalware Service High Memory Executable on Windows 10 (2021)
Switch to compatibility mode in Minecraft Launcher.
Several Windows users have claimed that starting Minecraft in compatibility mode helped them get out of the white screen. While the outcomes of this procedure are varied, it is worth a go. The procedure is as follows:
Go to your computer's desktop.
Right-click on Minecraft Launcher and choose Properties from the drop-down menu.
Select the Compatibility option from the drop-down menu.
For the Compatibility mode, choose Windows 7. Disable fullscreen optimizations is also checked.
Apply and then OK.
You may now restart your Minecraft to check whether the problem has been repaired. or don't
Also see: How to simply activate voice search on YouTube on a PC
Reinstall Minecraft after making a backup of the world.
If none of the preceding solutions worked, consider reinstalling Minecraft; however, if you don't want to lose your Minecraft world, make a backup beforehand.
You may learn how to back up your Minecraft world here, and then follow these instructions to reinstall Minecraft:
Activate the control panel.
Go to the "Programs & Features" section.
Now seek for Minecraft on your computer and remove it.
After uninstalling Minecraft, reinstall it via the Microsoft Store or the official Minecraft website.
Hopefully, this will resolve your issue. For mobile users, the aforementioned solution works well (iPhone, Android, and iPad).
What's the deal with Minecraft's white screen?
There is currently no information from Minecraft on why Minecraft sometimes gets stuck on the white loading screen; nevertheless, there might be a variety of causes such as poor drivers, adware, or anything else; the best thing you can do to repair it is to attempt the patch indicated above.
How can I repair a Mojang screen that won't go away on Windows 10?
To repair the blocked Mojang screen on Windows 10, try any of the solutions listed above, such as terminating the runtime broker from Task Manager or upgrading your drivers, and you should be able to play Minecraft without difficulty.
If you're having trouble with this problem when playing Minecraft on your PS4, Xbox One, or Switch, please let us know so we can create a tutorial for you.
Have any of the solutions listed above helped you solve your problem? Please feel free to leave a comment below with your own debugging experience.
Watch This Video-
The "minecraft windows 10 taking forever to load" is a problem that has been present for some time. The "Minecraft Windows 10 Edition" is the only version available in the Windows Store, and it is not compatible with other editions of Minecraft.
Frequently Asked Questions
Why is my Minecraft stuck on the white screen?
A: Minecraft is a 3D game, so you need to have an adequate computer and graphics card for it. Your best bet is getting the newest version of minecraft that has been released as well as picking up some good quality graphic cards.
How do you fix a stuck Minecraft loading screen?
A: It is not possible to fix the loading screen, this should be reported as an issue.
Why is Minecraft not loading Windows 10?
A: Minecraft is not available for Windows 10 because Microsoft does not allow the game to run on their operating system.
Related Tags
minecraft bedrock stuck on loading screen windows 10
minecraft windows 10 stuck on loading screen
minecraft stuck on loading screen pc
minecraft white screen after launch java
minecraft windows 10 pink screen